WELCOME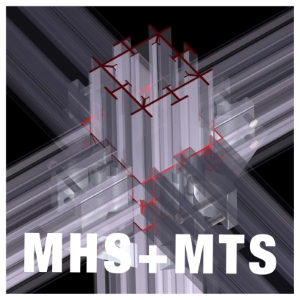 MHS is Patented Truer Modular Aluminum Building Systems, Original Design and brand new Construction Methodology with the life time durability and safety.
We are introducing the products through our Licensed Fabricators, MHS production sites in USA , China, UAE and representative offices in virtually every corner of the world. With our international network of fabrication companies, system partners and agents, as well as our outstanding service on-site.
Our engineering degign offices worldwide can guarantee to provide you with the best prefabricated housing and hybrid tall building solution and brand new MHS, MTS Green building System. Whatever the project, small prefab, custom home series, mass modular housing or tall wood building we offer a complete solutions, including all manufacturing plants design, MHS components and technical training featuring an exceptionally high standard of sustainable construction system and modular components.
Take advantage of our unique system development, expertise architectural and structural design team for your modular green building solutions.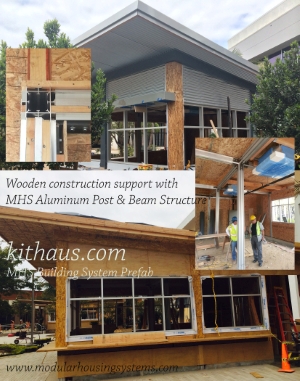 NEWS

Next Step
Kithaus authorized licensee of MHS Building systems prides itself on its stylish, modern prefabs that are built on-site by a team of company employees. Their patented aluminum system takes only a few days to construct, and the homes boast superior energy efficiency, owing to insulated floors, walls, and ceilings as well as glazed doors and windows.
MHS Glass Pod Office
Modular Aluminum/ Glass Pod Structure.
MHS Pod Office , the most truly modular structure products in the marketplace with the patented innovation of MHS aluminum construction technology, modular components to design & build a safe and strongest glass office or meeting room pods inside or outside of a building, roof tops, back yards and warehouse

Sustainable Double Skin Facade
We are focusing on modular interlocking building structural components and building design and construction methodology, it is presents solutions for the current challenging of Modular Housing Systems (MHS) , Modular Tall Structures (MTS) and Sustainable Double Skin Facade.
Pre-Engineered HYBRID Building SYSTEMS
"Pre-Engineered Building Framing" is not well known to the engineering groups and tall building design construction industries who traditionally design their buildings with conventional structural framing using standard sections in the market and using traditional welding or bolting is not Pre-Engineered or Prefabricated assembly modular building. The comparison below is intended to introduce and inform engineering design groups, construction industries, tall building developer of the brand new research, development, innovation pre-engineered modular connector design that's work for assembly of steel, aluminum and wood or combination framing for all tall building concept, its high versatility and practicality intergraded with MHS Structural Aluminum Framing, timber structure laminated wood lumbers and standard steel square welded hollow tube sections, metric or inches.
The pre-engineered modular framing consists of a complete building system, with components pre-designed to assemble on building site much faster than traditional building, No welding at site, No heavy roof, wall and floor. Many optional include. MHS-Systems interlocking system for structural interior aluminum framing, façade framing, MTS advanced air space insulation, ventilation systems, including light pre-fabricated concrete floor decking, using 2x4 lumber system or LSF as roof, floor and wall dividers, No stress to OSB or building skin any more all used advanced pre-fabricated MTS structure by design and building codes requirement.